About Us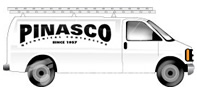 Pinasco Mechanical Contractor was started with one truck and the dream of independence possessed by founder, Joseph Pinasco in 1957. Upon returning home from World War II and finishing his apprenticeship with the local plumbing union, his ambition caught up with his aspiration and the difficult decision to break from being an employee and becoming an employer was made. Pinasco Mechanical Contractor began as a residential service company. The clientele was built upon word of mouth due to customer service, quality workmanship, and Joe's uncanny ability to make you feel as though you were part of the family.
As time wore on and Joe's family expanded, his four sons became an important component of his operation. As boys, Fred, Tom, John, and Joe were put to work by default, and in the process were taught the importance of hard work and the benefits of customer service. Each of his sons chose to enter the plumbing union and serve an apprenticeship in order to acquire a trade. Their paths took them to different shops allowing them experience the diversity of the plumbing trade. Eventually their paths converged back to the shop on Taylor Street , in which Pinasco Mechanical Contractor resides today.
Pinasco Mechanical Contractor is proud to have a managing base that is steeped in the construction trade. With the third generation of Pinasco's now involved with the management team, and the legion of long time employees that make up the work force of Pinasco Mechanical Contractor, you can be sure that you will be dealing with the best in the business. Our experience is second to none.
Location
We are located at 2145 East Taylor Street.